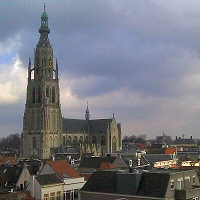 In the afternoon we leave for the South. Campers, cars with bicycle carrier or roof box demonstrate the end ('t South) and the beginning ('t North) of spring break. Just like the traffic jam around Utrecht.
Three hours later we step into the living room and quickly look at the transformation of the kitchen. This was the last major renovation that was planned and high on the wish list after purchasing the property.
It has to be said: it has become neat.
After a hearty breakfast we leave on Saturday early afternoon towards the centre. It's been a while since I've been walking around here, so that was quietly enjoying it again. The sun was finally back on full, while the North was slowly preparing for snow.
Several shops, a few purchases and a ride along the Mediamarkt later, brother P. left for his evening NAC. Half an hour later, an SMS follows: match stopped. On the internet we see that the referee temporarily stopped the game because of speaking choirs after a red card for the home team.
With a 2-0 loss, P. comes home. We all take a seat behind the television and watch sport, keep an eye on the Olympics and see after a few exciting laps that Tuitert has ridden his golden race. A radiant Maxima, Wim-Lex and their school-age children cheer the winner as he comes along with the national tricolour.
The next morning we read that Bea can come back from holiday, as the cabinet has already fallen. It can be weird from time to time.
To prevent the return trip from happening just like the outward journey, Evelien and I leave in time for the North. Halfway through, it's getting whiter and whiter. When they get home, the cats get a hug and mothers-in-law get a thank you for being careful. After dinner, the street is shrouded in a small layer of snow, but fortunately we don't have to go outside anymore.
The weekend is over, the rest of the evening we relax and I can look forward to the next morning. In this weekend, one©Ã©thing wasn't packed so I wasn't quite comfortable in my skin. Simply because the function is unknown to me, I'm more like "what-should-be-there-with" and I normally take it away every day.
So tomorrow I'm going to shave myself extensively :santa_hy:
---