Let's get to know the gp.
For me, it's been a long time since I've been to a gp. This is even the first time since I live in Assen.
In fact, I didn't even know who my GP was, but a phone call quickly solved this problem yesterday and the appointment was made.
A little before eight I report to the counter and I get to sit in the waiting room. The women behind the counter are continuing their conversation.
After ten minutes, she asks me who I'm waiting for. Turns out I'm in the wrong waiting room, walking down the hallway and getting to pick out a chair.
Not long after, the gp comes out. With suitcase and jacket on. He turns out to have an emergency and I have the choice to make a new appointment or wait. I myself try to be ~cocky when I am~ a third possibility: another gp.
I know what I'm here for, what I need, but I can't pick this up at the pharmacy without a prescription. It turns out to be not an option and I get in the car to pick up the material for work from the supplier. There I call the gp asking if the doctor is already back and I can still go, otherwise I drive directly to the office from here.
A hole is being cleared for me. It's going to take another half an hour, but what's to do. And that's how I walk into the room. The doctor introduces himself, sees that this is my first time and asks some general questions. Then he asks what I came to.
I put my phone on the table with a picture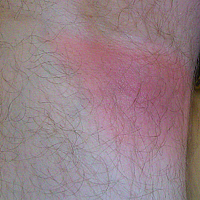 taken on April 25th and shows a red spot in my knee cavity. This place took its own way, and I didn't pay any more attention there. See you yesterday.
When the light was drying off, the light fell slightly differently on my leg and I saw a red spot that, on closer inspection, formed a whimsical circle. Yesterday I looked up the necessary information on the internet, but the further I read, the worse the stories became. The gp can tell me and I'll show him the place.
"Yes, this is not good" he says.
"No, I thought so, and that's why I wanted to have an answer today."
"I can understand that, and you did a good job."
The diagnosis: Erythema migrans or a red circle indicating a tick bite.
We go back to his computer and there I get the desired recipe with his scribble on it. This will take me to the pharmacy and pick up my pills. Normally I'm not so keen on pills, but in this case I like to swallow them.
He asks some things about my medical past, sees that Evelien is also on file with him but has also not been with him and the image is clear to him. I ask what I can and can't do with the pills. Alcohol is not one, but that doesn't cause a problem. Other than that, I can do anything, as long as I stay out of the sun as much as I can.
With a straight face, I look at him and tell him this isn't a problem either. Because of an earlier long day in the sun and as a result the molting around my nose I do not know how seriously he has taken this.
I'll call Evelien and catch up with her. She's surprised. No tick has been seen at all. When should it have happened? For myself, there are a number of possibilities. With the previous meeting still in mind, I immediately thought of Ameland. Here I am situated through the dunes, on the moors and of course sprawled in the grass.
After Ameland we started working on the garden and gave the necessary shrubs a new place in the garden. The cats walked outside that day and of course may have taken something inside, so I have no idea.
More importantly, you come with these pills from :vraagteken_hy: