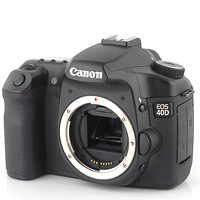 All right, better, fine.
The best is not in it, but if you get the chance to get better…
Due to the price decreases in the second-hand market, it was again interesting to make a small switch.
The 350D was traded for a 30D last year for not too much and that step was less shocking than expected. This time it's going to be no different.
The 40D does have a different sensor with better noise control. It is even claimed to be better than the 50D, so my attention had already gotten the camera. Because of the price at the time, I first changed some glassware. The combination of a good body and a lesser lens is worse than a lesser body and a good lens.
The Canon "L" violence will fall off to a large extent ~although of course a hobby may cost money~ but if you look for alternatives whose sharpness comes close, there are plenty of nice pieces of glassware in between. I can say: this has worked out quite well for the hobby.
The construction and finish can't be compared to an "L"~most are weatherproof~ but since I am not photographing in the rain or during a sandstorm, that does not cause any problems.
At MSN I was told by M. that a "acquaintance" was looking for another backup and his 40D would soon go on sale. He had handled it nicely, not many clicks and completely complete with accessories available.
The sale was quickly closed and today the package came in. The camera even had a surprise, something I could have known, but for other reasons i hadn't thought about it: Live view.
Don't believe I'm going to use this very much, but nowadays you get the extra features that were normally only intended for the compact (live view, videos, smile, facial recognition, etc.) for free. Other notable changes that immediately caught my eye:
| | | |
| --- | --- | --- |
| | | |
| Choice wheel 40D | Menu buttons 30D | Menu buttons 40D |
The on-off button is smaller. This was probably the result of a larger screen. As a result, the menu buttons are no longer on the side, but at the bottom. On the choice wheel, the C1 to C3 functions have been added. I don't know what it does yet, but there's the guide to that. And discover it playfully. It's going to be okay!
I'm totally 😆
---