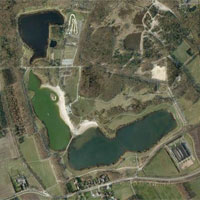 The morning starts a little later today.
We look outside after breakfast and see the sun doing its best.
Time to go out and a round of Baggelhuizerplas is chosen. The local pool of water.
The first part is for dogs and they make grateful use of this. We walk on and as we turn the corner, we see that things have changed in the last two years.
We decide to see the scene from the terrace with accompanying drink. A slide, several climbing frames, even a floating plateau can be found here. Because my cure has just been completed, I turn my back on the sun.
It's a great place to sit, but not for the rest of the afternoon. P. and A. don't want to go home too late, so we finish the round after an hour.
P. and A. pack their things and can get home nicely on time. So they're going to have something to do with the evening. Evelien and I take a seat in the garden, under the sun.
Quietly enjoying the rest of this lovely afternoon :shining_hy: