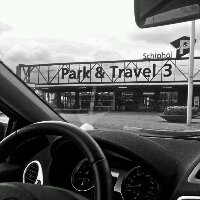 A little about 10:00 we are at departure hall 2.
Patrick and Annemieke need another half an hour. Evelien uses the time for a cup of coffee.
Not much later we see four familiar faces. They were dropped off by her parents. Together we walk to customs and we wish each other a good holiday. Her parents are going to Kiev in a week.
Once on the plane, the seat next to me stays empty for a long time. Suddenly a man asks if I have enough legroom. He's at least 1.90 tall. I pretend to measure the emergency exit space in front of me, stretch my legs and say, "it can all be just."
He smiles and puts down his trolley, grabs a dutch, English and French newspaper from under his arm that end up on the chair next to me. The trolley opens and that's where the ipad comes out. With the ringing out of his jacket, the trolley is stowed at the top and the blackberry is recorded. You know it, type of rule cousin.
We hear that the flight to JFK is shorter than expected: 7am and 15min. That's always taken. We are well taken care of, food and drinks are regularly distributed. Patrick has brought several booklets, but if the children get a little bored in front of us, I want to choose a movie on my screen. But no matter what I do, the screen stays black.
The flight attendant who just came by says she'll ask to perform a reset. The man next to me turns out to be a "frequent flyer" and gets to choose which of the two meals he wants. If the cart comes along for us, there's no choice. Rice, spinach and fish. Patrick and Annemieke did get the penne and then look further on a working screen.
We're right in a row of three that doesn't do anything. Even after a second and third reset, it remains black. I'm just going to settle for it. Literally, because the other half of the flight I doze away for a while.
The journey is over and we are lining up to get through customs. At Schiphol we have already had the body scan. Here they only want all the finger-trotting, iris scan and a copy of your passport. No questions, which surprised me. At Schiphol there was a young man who had clearly watched too much television and in his role as a strict customs officer asked what the destination would be. I advise him never to play poker seriously, because because of his whole attitude and mimicry, the desired overall picture all but came across as tough.
Pat and Miep will get some questions and need a little more time. I can see Evelien shooting the procedure from the two at a distance. An agent stands between the field of vision of me and Evelien and asks me kindly but without a doubt in his voice if I want to stand a few meters further. Not a problem. That's not what I'm here for…
Evelien comes back with a red head. It's not just the heat that shows. The suitcases were taken off the tyre, because another flight already needed them and we have to take them from the loudspeakers zsm. I'm going to go after her and see all our suitcases with a male and female customs officer. The great American helps me for a moment for which I thank him. A dark warm voice answer: "you're welcome!"
I walk the rest of the day to wonder what tone/intention he has said this to; dominant, with a sigh of another stupid tourist or just friendly. Maybe all of them.
The other two see us coming around the corner with our entourage on wheels. The reserved taxi van leaves nicely on time. After a few steps, it's full and we can go deeper into New York. I sit in the front and have a nice view of the wide dual carriageways, flyovers, a huge, really huge cemetery, space shuttle Enterprise on top of a Boeing and the large bins that pull up "noise" at the many traffic lights due to the thick engines.
All cars are constantly changing lanes to pass the stationary cars, which allow some passengers to get in or out on the side. Most without the use of flashing light. Our driver knows his van and most of the places where this happens, so we drive on nicely. Sometimes a car like that just wants to insert and it gets the space. If a car does not hurry up or stops in the wrong place, the honker is pressed. Sometimes even when you see the green light. It turns out to be a language in itself, because the honker is abused for every wiper wash.
He's busy with paperwork and his pda, pressing numbers into his phone, calling via his Bluetooth headset and keeping an overview. Plus the necessary distance. Everybody drives defensively. If he's dropped off the first customers, he's going to have to insert it. The car he subtly lets on the road, gets a honk in response, but gets to insert two cars further. There's no other way, because it's already taking up half the lane.
The next stop is for us. The hotel room looks neat and we get fresh enfresh up quickly. We used to be there as thought, so we'll take the evening with us. We turn the corner from the hotel and walk across Time Square. It's still light, so we walk on to the M&M store with huge tubes colored and sorted confectionery. Then we confirm the tickets for "Top of the Rock". After this it is dark and we walk back to Time Square. We look at the many light of the billboards with disbelief.
Street lights are absolutely unnecessary here