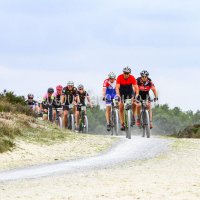 Today 17 June Bartje 200 2018 is scheduled. A MTB tour of 200 km through Drenthe.
It's the counterpart of Drenthe 200 that I photographed 1.5 years ago. Drenthe 200 is set at the end of December. Also on MTB, 200 km through the province, but colder and wetter. On request, the same organization has offered a summer edition and that is a storm. Bartje 200 takes place in June, which should lead to better temperatures. With a grey air in the morning and about 16 degrees it has become a great start.
From 08:00 the first ones start and the riders have until 20:00 to get in. The weather just needs to get better today, so it does promise to be a nice ride for them. And fine weather for me to put my cameras to work along the route. And that's what happened to over 4,000 images! Curious about the pictures?
These can all be viewed and ordered via this link to: Oypo.
Short impression Bartje 200 2018
A complete account in word and image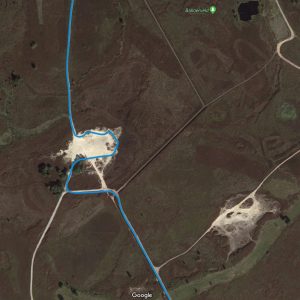 As a location to take my photos, I did not choose to sit in the forest last time. This piece is now almost at the end and then I expect huge holes between the first and last participants. Somewhere in half I see the Balloerveld on the map and that seems to me to be a good alternative. According to the online road map, the riders here make a loop and that gives me the chance to take a cautious action photo.
In the middle of the sandy plain, I take my position. Against the wind and the loose sand I brought my pop-up tent. That way, the rest of my stuff stays protected. A man with a dog comes along just as I push the last herring into the ground. He looks at the situation and wonders aloud what's going to happen.
The story of the 1,500 participants, the event Bartje 200 2018 and the 200 km on mountain bike right through Drenthe I tell him. So I as an enthusiastic photographer are waiting for them here. He has just picked up photography again and there is a cosy chat about street photography, black and white with contrasts, his dog, the Balloerveld, mirrorless cameras, the weight of equipment I meezeul and my name Farcows because of the surname Cowy. Together with the cow in the logo it is a funny whole, creative. I offer him my business card, he doesn't have a website yet.
Passage Balloerveld Bartje 200 2018
Through the app I can keep an eye on the first riders. I have estimated the passage here a little too early, but waiting in this weather is not a bad thing. Another man has better assessed it, he comes to stand with me five minutes in advance. He broke his collarbone two weeks ago and unfortunately had to cancel, but encouraging the friends can still. We go through the route and he gives me a tip for a nice point. Thanks, I'll see how that's going to turn out. He walks up a hill and screams that he sees them coming in the distance. We get ready and wait in suspense.
A good start, it is … whoops
A small group appears and shoot straight ahead with the same speed, the expected loop is completely ignored here. The man is as surprised as I am. "Is this the point?" I ask him, but for a long time he doesn't dwell on that question. He's trying to cut a piece to the next point and if the next contestants also shoot straight ahead, it's clear I'm not standing here. I decide to leave my tent and move the rest of my stuff quickly towards bike path. So I can keep an eye on the pop-up, but I'm not really happy with the situation. I can forget my action photos here. I just have to.
The rest of the participants do not know what happened beforehand. I see many looking to the left, but just as easily drive straight again. Sometimes I hear a surprised cry, see a reduction in speed and only one man turns down. To be recalled by the group and quickly rejoin the rest. A few hours later, I suddenly hear my name being shouted across the Balloan field. I'll shout back another "Yooowww!" and then think about who it might have been. I'm guessing an old colleague, who were with a group of fanatical MTB-ers. Tuesday's redemption will follow via LinkedIn; Indeed one of that group, nice.
The other reactions of the participants to my presence
Great. Despite the abandonment and the distance already travelled, I have seen happy faces. With a big smile you came by, waving, raising a thumb or a hand. Thank you all. With the same enthusiasm I have received several messages about where and when the pictures can be seen again. An update on the photos follows anyway on my Facebook page Farcow's photography, but I get them all. It's a nice reminder of this first marathon, so I did my best to post the photos online as soon as possible in addition to my 40-hour track.
My day consisted of sitting, shooting and waiting for the broom wagon. My motto is not for nothing: "I am there for the participants, not for myself." I want everyone in the picture, because they've all made a commitment and done their own. What could be more beautiful than being able to capture that emotion on the road per individual? No report from start to finish. A few pictures of the start, along the way and a couple of the finish line is not spent on me. So it will be a while to find yourself in the photo, sorry

Photos Bartje 200 2018
So if you have someone on the Balloerveld, that was me. I shot more than 4,000 images during Bartje 200 2018. Curious about the pictures? These can all be viewed and ordered via this link to: Oypo. Thanks again for all the comments during the day, plus the likes, tags and smilies online. Have fun watching and until next time!
---
---