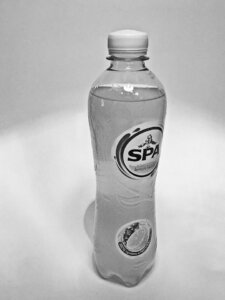 If I expect not to have the opportunity to buy a drink for a while, I'll take it myself. One is usually enough. But where do I leave such a thing? 
Once the bottle is opened, there is always a danger that something will leak. I prefer that liquid is not with the photo stuff. Sometimes I can't escape it, but then a plastic bag goes around it. Just in case. It hasn't happened to me that there's been flooding in the bag and I'd like to keep it that way.
When I was surprised with a Lowepro "lens sleeve" at a second-hand purchase a few years ago, I soon found another destination. The salesman had nothing left. The lens that normally went in, he didn't have any more or he had bought a larger bag. The thing was just there, so please.
An elongated bag, the top can open with the rist and on the back there is something of Velcro. I couldn't do it then. After some detective work, I found out. This is part of Lowepro's system; SlipLock. A simple way to quickly expand the suitable bags in case the contents of the bag are not sufficient. Or just to be able to quickly put a lens away without having to open the whole bag. But in addition to the bags, a special belt or harness can also be purchased that can accommodate several of these bags. Lowepro calls it pouches and has them in multiple sizes.
A search on "lens case" shows me that there are many more brands that sell it: Ruggard, Pearstone, Fototech, Butterflyphoto, easyCover, Case Logic, F-Stop, etc. Different colors, applications, closures, you can use it in all directions it looks like.
Tip: Lowepro SlipLock for a bottle drink
It didn't get that far for me. I do it with the back or shoulder bag and one pouche. Because I still use the thing. Not to store a lens while shooting, but I use a SlipLock to bring a bottle of drink.
Once I realized how simple an idea can be, my purse got a different purpose. Use SlipLock for a bottle of drink. I'd like to share this tip with you. If you can buy a similar bag or you happen to have it under a layer of dust, go use it.
[ngg_images source="galleries" container_ids="8″ display_type="photocrati-nextgen_basic_thumbnails" override_thumbnail_settings="1″ thumbnail_width="200″ thumbnail_height="200″ thumbnail_crop="1″ images_per_page="0″ number_of_columns="4″ ajax_pagination="1″ show_all_in_lightbox="0″ use_imagebrowser_effect="0″ show_slideshow_link="0″ slideshow_link_text="[Show as slideshow]" template="default" order_by="sortorder" order_direction="ASC" returns="included" maximum_entity_count="500"] 
There is a pouche specially made for a bottle of drinking, but according to some it is on the small side. In images I have also seen the top stickout out of the bag. On a hot day, the bottle stays in the sunlight. That doesn't seem like a good drink after a few hours. A 50cl bottle fits me completely in the bag and can easily close with the zipper. Completely protected from the direct sunlight, attached to the outside far from the photo stuff and I can't lose it. Would you rather drink from a water bottle? It's like that. So the ideal solution for me.
Have you come up with a good solution yourself or do you have another handy tip? Leave it in a comment.
---