A look back at the Autumn Desert Trail like I experienced it.
As I said, it was my first time that I picked up a (sports) event to do a little more with photography.
It was also my first time photographing the Autumn Desert Trail. A number of things were necessary for this and that involved the necessary preparations.
Preparations
To have all the other photographers, some of whom have been known by name for a few years, the participants also look at me as a photographer and my site with links to the photos, business cards were needed. The backpack I was going to take was already stuck, that was the biggest one. At the spot where the tripod is normally attached, there was now a folding stool. Standing all day is nothing.
Batteries were charged a few days in advance and the storage cards were formatted. Because my girlfriend was going to ride a horse herself, we would each go separately with a car. Then In the event of high emergency I could visit a toilet, because that is not present near the Bare Dunes. Her mother didn't need the car that day, so that was arranged.
Equipment
As a photographer, what do you take to the barren plain? I have photographed galloping horses during organized outdoor rides with my girlfriend on Ameland in recent years, but that is not comparable to a sandy plain where everyone is allowed to do what they want. Switching lenses is not an option, because it is expected that about 50 riders per hour will be allowed. Two cameras with a telephoto lens on it and one with a more wide angle is the solution.
For each camera, a spare battery and empty card are put in a separate compartment and in addition to the other loose accessories, that should be fine. Because it is the first time that the 70-200 F2.8 IS will be used properly, I take the 70-200 F2.8 non IS with me just to be safe. I haven't sold it yet, so it can get out of the car in case of an emergency.
Accessories
Cleaning cloth, lens pen, white balance cap, pen, paper, rain cover for camera/lens, poncho, towel, raincoat, scarf, gloves, cap and an extra pair of socks all go with you. It becomes too much for the backpack, so a loose backpack is needed. This involves a small refrigerated bag with a freezing element, so that the drinking and bread does not get hot. A knee cushion also fits in. Normally that's meant for working in the garden, but it works fine as a pillow and I don't sit directly on the (cold) ground. The first day I used the folding stool as a table, left home the second day.
Food and drink
A bag of balls and a few bottles of drinks plus some sweets should be enough to come throughout the day in addition to the ten euros in cash. As a candy I always bring some salt, so that in hot weather the moisture is retained and/or replenished for longer.
Clothing
Everything happens in the morning and much of the afternoon. It remains the Netherlands, so bringing something against the rain is necessary. At the last minute, I made my choice. The forecasts all indicated dry weather, with a temperature of just above ten degrees and wind force 3. In advance I have chosen the place and the intention is to stay there as long as possible. I put on ski pants like pants. Warm, wind- and waterproof, yet breathable, bright orange, so no one can overlook me. A pair of good socks, sturdy shoes, a sweat shirt, thermoshirt and a skipully that serve as layers under the winter coat should keep me warm.
The day itself
On time left Assen with a hearty breakfast behind the molars, we drive away together. I go to the parking lot and they go to the parking lot. On the Bare Dunes I go looking for the place I want to stand. I'm sure I'll be offered too soon, because I'll get to a different point as expected. And so all of a sudden it's all sand around me and everything seems the same. I'll take some pictures from last time, but I can't recognize a tree or anything. Google Maps opens and together we look zigzagging and plodding through the sand a familiar point. Several photographers have already taken a place, but these places are not familiar to me.
The sun is shining and in combination with the luggage, clothes and the sand, I get it pretty hot. With a big detour, I suddenly stand on a hill that Is familiar to me. This is where Evelien and I have been. I look around again, compare the map with a place in the farand i finally found it. With a deep sigh I put the two bags on the floor and unpack everything. There is no horse yet to be seen, but as soon as I have the cameras around my neck, the first riders appear. The Autumn Desert Trail has begun!
Two photographers stand in front of me in the middle of the plain. Besides not finding it safe, they block my background. I have the sun in my back, that's how I picked the place. After a few laps of the horses present, I see them walking towards me. They have decided that against the sun in shooting and an orange pants in the background do not produce nice results. This way we stand together and shoot our images.
The beginning is quiet. But around noon it's rush hour. The two men have seen it and I have this central place on the sandy plain for myself. Horses fly around my ears from all sides. I no longer have an eye on how many pictures still fit on the map and it happens twice that I am confronted with a full card. Then it's quick to grab the second camera and move on, looking for a moment when I can switch the card. If the sun turns a little further on this beautiful day, I'm going to stand further down the road. A friend of Evelien's stands there and while chatting, Gerda and I make the day full to the last horses. Time to go home and see the damage. From the number of tickets i must have shot more as thought.
The second day
At the end of day 1, the sand was already well loose. Today we see several horses come along with great difficulty. Gerda was already there and I'm taking a seat next to her. Photographers call on the riders to come by in a gallop. Some excuse themselves when they get past me in step. My answer is honest and simple: "don't think of the photographers, but the horse." Most horses are used to walking on forest paths, usually a fairly hard surface on some mud puddles. That's not comparable to the sand here.
The Autumn Desert Trail is also exciting for the riders. A large open field full of strange horses. Here and there some screams about not having the horse under control anymore. Fortunately, this day is doing well. We'll count crash number three. Someone on a pony who didn't expect her agile four-legged friend to take the turn so quickly loses the balance, slaps a little cry of terror and pops on the soft surface. She can laugh about it and get back on her. I'll see her fly by a few more times later.
This day I shoot fewer pictures. It's gray most of the day. There are more visitors, fewer horses and for my feeling fewer photographers. Or they're more scattered. This day, however, I keep handing out business cards. I doubted i should go, because of the many photos that need to be edited, but the day flies by through the small conversations. In the evening, after a successful weekend, I will continue to edit the files immediately.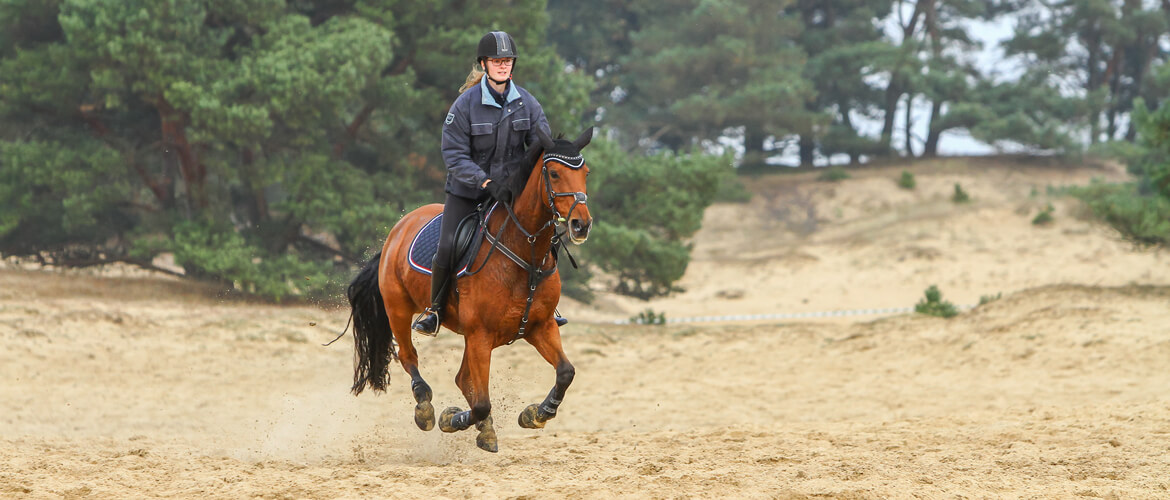 Settings
Before I started shooting, I put the white balance on hand. Opted for a shutter speed of 1/800 and aperture of F8. The ISO automatically captures the moments when the sun appears behind the clouds, with a max of 400. Continuous focus with multiple focus points in the center of the sensor. On the lens I have indicated that the first meters for focusing can be skipped. I left the stabilization 100% on because of the fast moments between running and standing still. Because I shoot fast and many photos in a row, I don't want my camera's buffer to fill up and therefore shoot everything in JPG instead of RAW.
The pictures
On Saturday, I shot just over 3,200 photos. The lens passed the test just fine. I have to throw away a percentage, but the vast majority go into the processing via Lightroom. Lighter, darker, white balance slightly adjust, crop. Every photo is viewed. And that takes a lot of time. Time I don't have on Sunday due to a second visit to the Bare Dunes. Even if I get messages after uploading the first photos, I have photos of the rest of the day(s). Sunday yields about 1,100 photos. After a few evenings and a long session on Saturday, all the photos are online. Uploading takes about as much time as editing. But it's a lot of fun messages.
Social Media
The Autumn Desert Trail Facebook group posts several positive comments and questions. People are tagged and give a response to that. Friends of Evelien change their profile picture with a picture I took. This is how the oil slick is slowly spreading across the Internet. On a forum all photographers are placed in an overview and yes, here too I see my name coming back. By email I get a nice message and so it yields a lot of positivity. But what about the actual sale?
Oypo
The prices I have kept to attract viewers are low. I was new there, it was my first time and I had no idea what to expect from the Autumn Desert Trail. The attention and interest in my photos is there. Behind the scenes, I can see some things at Oypo. The number of visitors is huge on the first weekend. There is an understanding that not all photos are directly online, but it should not take too long. Most expect everything to be online within two days. The number of viewers who watched my last folders of the Autumn Desert Trail is minimal. There's a real difference between them. From nearly 250 viewers for the first folders, to less than 50 for the latter. So it's no surprise that most of the sales were made in the folders that were online at the beginning of the week. 
All in all, there are about 4,200 photos online. Good for almost 48GB of space. Oypo is free, they only charge a certain percentage of sales. Most orders include a print of 10×15 or the digital file (800 pixels). Some a little bigger, but no canvas, mug, T-shirt or any other possibility available at Oypo. The ease of use is great.
Uploading takes a lot of time. On editing, I might be able to buy time next time by setting the camera more manually. Other than that, I don't have to do anything about it. I just need to get customers who want to make an order. It is therefore useful to call the folder the name Autumn Desert Trail, so that one also comes to the photos via a search. I don't see anything about the customers themselves. What I do see is that a lot of them combine their order with multiple photographers within Oypo to reduce the treatment costs. If I get a new order in my list of, for example, €73.95, that seems like a lot. Once in the order I see that a total of 19 photos were ordered, 2 of which are mine.
Fortunately, I can also easily see the accumulated balance. After two days of shooting and working a few evenings, it has earned me about €100. Thank God I don't have to live on it. For the experience it is very nice to take. Normally I don't do anything with the pictures, but the enthusiasm is going to make it more of a lot like this. 
Next Autumn Desert Trail
The atmosphere is good, the weather certainly worked on that and with a bit of luck I'm just back on the Bare Dunes shooting the Autumn Desert Trail. At least I've got a new card reader on it. The rest goes to the savings account.
This to soften the purchase of the lens again a little

---